Hair Transplant Statistics (2023 UK)
Hair loss affects most people at some point in their lifetime, causing anxiety and decreased self-esteem.
There are multiple surgical and nonsurgical treatments available, with the surgical options having greater and longer-lasting effects. Such treatments have evolved over time with advances in technology and research, with numerous patients researching these treatments on Google.
Male pattern baldness tends to affect most men at some point However, there has been a dramatic rise in the number of people seeking hair transplants, as an alternative to vitamins and nootropics. 
But what exactly is causing this?
Is it down to the reduced costs of treatments from clinics abroad? Is male pattern balding increasing?
Let's breakdown some of the numbers…
The hair transplant market is one of the fastest-growing healthcare specialities. The market size of hair plantations has developed by 64% since 2014 to 2021 according to ISHRS statistics and accounts for 6.5 billion USD.
Four factors we estimate to be causing this affecting the transplant market are…
1. the increasing number of people who suffer from baldness over the world
2. the growing interest in self-care procedures within the Asia Pacific region
3. development of minimally invasive and painless hair transplant techniques
4. changing lifestyles globally.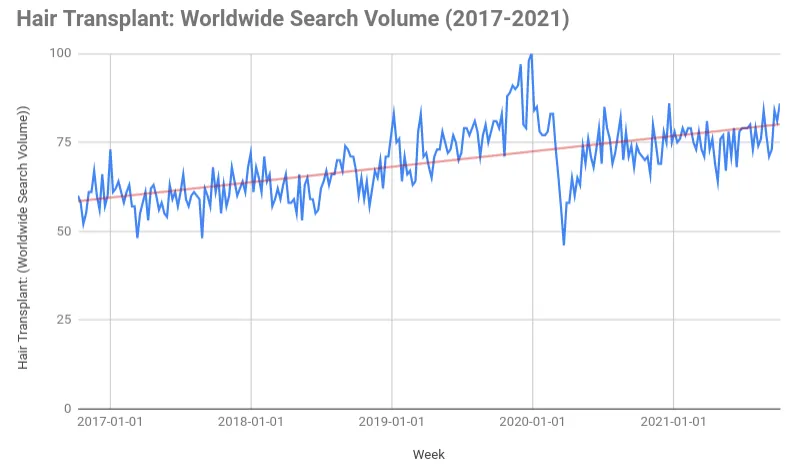 The graph above shows global  search volume data from the last 5 years (2017-2021) taken directly from Google Trends.
Since 2017 there has been a massive = 43.3% increase in the search volume for "hair transplant" via google search.
Worldwide trends in Google searches of hair loss products (2004-2020) were compared with product prescription frequency surveys from members of the International Society of Hair Restoration Surgery (2004-2019, ~29% response rate).
Search Insights
Minoxidil and finasteride were the most prescribed hair loss treatments, while "minoxidil" was the most "Googled" term. Generic products were searched more often than their brand counterparts. Nutritionals and haircare prescriptions increased over time. LLLT was also increasingly prescribed, with Internet searches increasing following government regulation announcements. The COVID-19 pandemic initially negatively affected hair loss treatment searches, which have since returned to, and surpassed, pre-pandemic levels.
The Hair Society claims (1), 35 million men and 21 million women suffer from Alopecia or hair loss globally. Over 650,000 of them get hair transplant as the most effective treatment option yearly.
The International Society (2) of Hair Restoration Surgery reports that 87 percent of its patients are men. Nevertheless, the surgery is gaining popularity among women – according to the Society, 13% of hair transplant patients are female.
https://thehairsociety.org/tag/hair-transplant/
https://internationalsociety.org.uk/
Worldwide Internet searches for "hair transplant" have increased from 2004 to the present. Follicular unit excision (FUE) has supplanted follicular unit transplant (FUT) as the most popular hair transplant performed. Since 2004, there has been an increase in both nonsurgical and surgical female patients. Beard and eyebrow transplants have increased in popularity. Google searches follow this trend. Nonsurgical treatments such as platelet-rich plasma (PRP) are being searched more frequently. Hair restoration clinics and Google searches were affected adversely by the COVID-19 pandemic.
Hair Transplant Success Rates
A recent study showed that Hair transplant graft survival rates range from 90-95 percent. This indicates that hair transplanted from the donor region has a high chance of being successful
However, when comparing, hair transplant success rates compared to patient satisfaction. The study tracked these patients for three years and found that 1 in 5 patients was not satisfied with their hair transplant procedure.
The overall average satisfaction rating of 8.3 out of 10.
Remember that full effects from hair transplants can take awhile to show. After the procedure, you may endure the 'shedding phase,' in which up to 90% of the transplanted hair comes off. That doesn't mean the procedure was a failure. This is a normal and temporary reaction after surgery, and the hair will gradually recover and regrow over time. The ultimate results of a hair transplant usually take 12 months to appear, although it might take up to 18 months in some situations.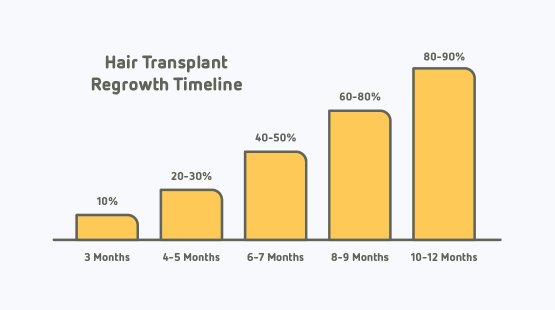 https://medihair.com/en/hair-transplant-statistics/
Demographics of Hair Transplantation (2020) Census Report
The graph below shows age and gender break down of hair transplant procedures. Men show in the dark blue and women in light blue.
The study was conducted in ISHRS Practice census in 2020.
Images below are from Medihair.com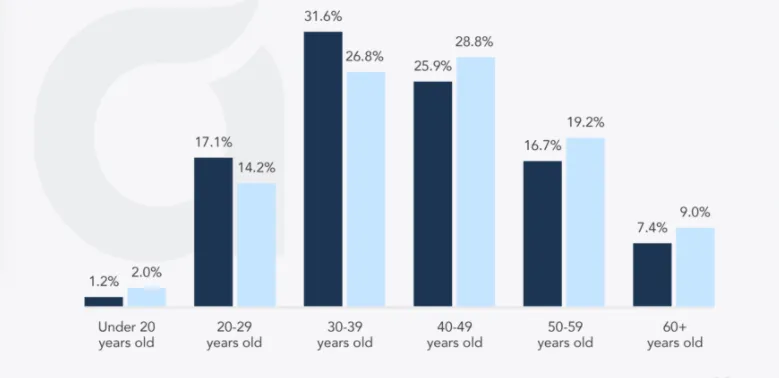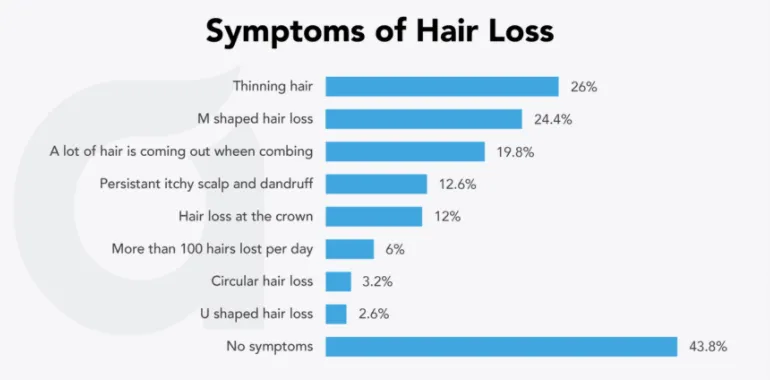 The 2015 hair restoration practice census Survey
The 2015 hair restoration practice census conducted a survey a  biennial survey that found  397,048 procedures were performed in 2014.
Age
Over half of the patients were under 50. Men 30-39 had the highest percentile (31.7%), followed by 40-49. (26.9 percent ). For women, the 40-49 age group had the highest percentile at 27.7%, followed by the 30-39 age group (27.0 percent ).
Procedure
While FUT procedures accounted for over half of all hair transplants, FUE procedures are fast increasing, up 51% from 2012. (from 32.2 percent in 2012 to 48.5 percent in 2014). See graph.
The effect of hair loss on quality of life study (2021)
D Williamson,M Gonzalez,AY Finlay (2021) conducted a study into the effects of hair loss on quality of life. The aim of this study was to quantify the effect of hair loss on quality of life. Patients were recruited from an alopecia support group, and were assessed using the Dermatology Life Quality Index .
Seventy (90% response rate) questionnaires were returned. DLQI scores in responders with hair loss (mean score = 8.3, SD = 5.6, range 0–23, n = 70) were similar to those recorded in severe psoriasis.  The hair loss continued to have a significant impact on life quality well after the initial event (median duration of hair loss = 138 months ± 114; range 7–588, n = 70). Forty per cent of patients also felt dissatisfied with the way in which their doctor dealt with them.
This study specifically identifies the feelings of loss of self-confidence, low self-esteem and heightened self-consciousness in people affected by hair loss.
Hair Transplant Statistics
Statistic
Value
Male vs female split of clients
85% male, 15% female
FUE vs FUT procedure split
66% FUE, 30% FUT
Robotic-assisted FUE procedures
5.3% of all FUE procedures
FUE punches size used by surgeons
99% used punches less than 1mm
FUE donor sites
92.5% scalp hair, 7.5% beard hair, 2.4% chest hair
Patients needing only 1 procedure
57%
Grafts transplanted during first procedure
81% had 1000-3000 grafts
Age of patients
87% were between 26 and 45
Patients from different countries
13.4%
Market size growth (2014-2021)
64% growth
Worldwide search volume for "hair transplant" (2017-2021)
43.3% increase
Men and women suffering from Alopecia
35 million men, 21 million women
Hair transplants annually
Over 650,000
Percentage of male patients
87%
Percentage of female patients
13%
Most popular procedure
FUE
Hair transplant graft survival rates
90-95%
Average satisfaction rating
8.3 out of 10

Age
Conclusion
Technological advances in available therapies, improvements in delivery systems, changes in hair fashion, and global events have a direct impact on hair restoration treatments offered by physicians and researched by patients. It is in the best interest of all hair restoration providers to keep abreast of changing technologies and treatment trends to stay at the forefront of their profession.
PLEASE REFERENCE UK SMILES VIA A CLICKABLE LINK IF USED, THANK YOU